At St. Martin's, every student, every teacher, every staff member and administrators lives our mission.
We seek to inspire in students a love of inquiry, a sustaining faith, and a generous spirit open to ideas, peoples of the world, and a call to service. At our Episcopal school, students discover who they are as learners, leaders, and friends. We create a welcoming community encouraging each individual to grow in Confidence, Compassion and Character, grounded in the knowledge that each is a child of God.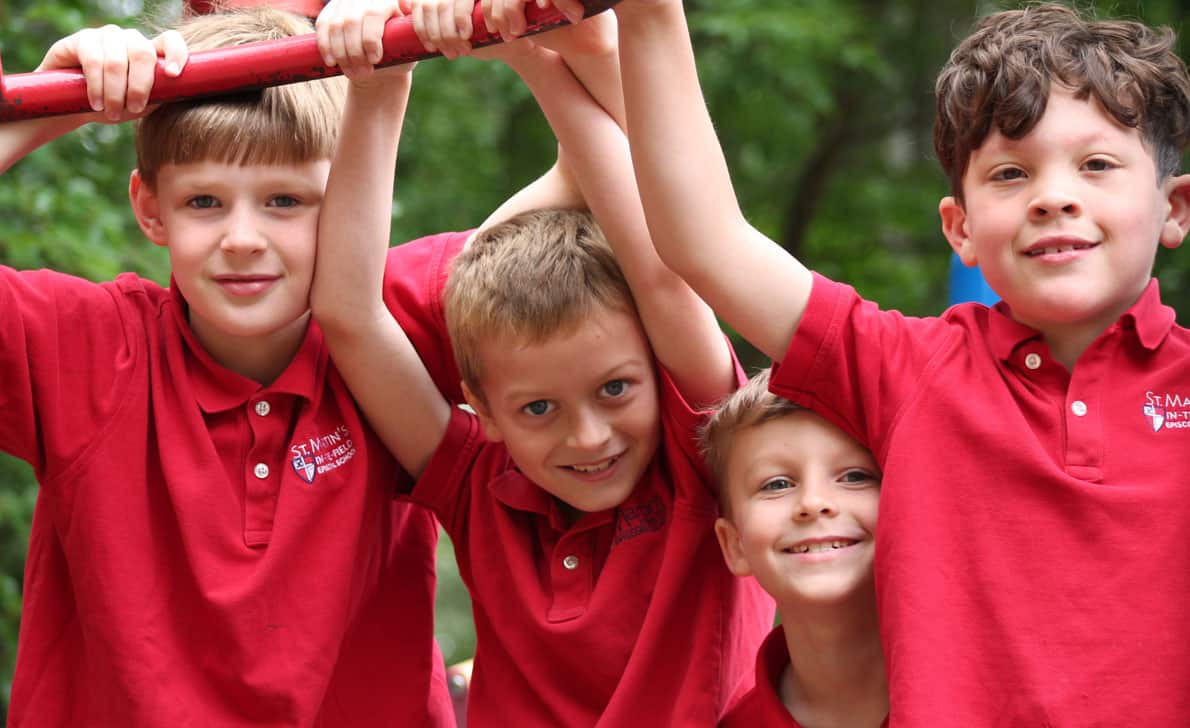 All are welcome at St. Martin's.
We seek to embrace and promote diversity among our students, faculty, administration and trustees. Our learning community recognizes and respects the diversity of modern society; we provide our students with opportunities to gain exposure to a multicultural curriculum that celebrates individual differences. All students are considered without regard to gender, race, sexual orientation, religion, and national or ethnic origin.
Educating the Whole Child
The educational philosophy of St. Martin's-in-the-Field Episcopal School is inspired by our core belief that each student is blessed with unique intellectual, social, emotional, and spiritual promise. Each student is supported by caring staff to discover their learning strengths and styles and to reach their potential for success, leadership and service to others. We inspire each student to become an inquiring learner, to lead with humility and the courage to care, and to be a good and compassionate friend to all. These goals are captured in these words from our mission: Learners, Leaders, Friends.
Meeting the Needs of Each Student
Each child's needs are met through enrichment, support, and differentiation in small classes led by dedicated teachers. Our interdisciplinary approach combines aspects of the humanities, mathematics, arts, technology, and the sciences from Preschool through grade 8. We emphasize innovative and problem-based learning, engaging play, and meaningful practice, giving students many resources to draw from in finding their way forward. In our small community, students learn to self-advocate and to respect one another's ideas, growing in their sense of self. We are mindful that success in the 21st century requires our students to practice critical thinking, collaboration, communication, and creativity.
We have high expectations of our students. Successful choices for personal excellence, academic achievement, and preparation for the future will require the foundational skills of critical thinking, communication, collaboration, and creativity.
Parents and School Partnership
We recognize the special relationship with the families of the students entrusted into our care and guidance. Parents, teachers, and administrators form a close partnership with the good of the child at its heart. Oriented toward fostering successful outcomes, this triad is an integral part of our whole-child educational philosophy. Ultimately, at St. Martin's each child is known and loved, and by understanding each individual student, teachers build supportive relationships focused on fostering academic and personal success.
Accreditations and Memberships
St. Martin's is fully accredited by AIMS (Association of Independent Maryland Schools), the governing body of 120 independent schools in Maryland and DC, placing us in the company of the most distinguished schools throughout the region.
St. Martin's has been a member school of the National Association of Episcopal Schools since its inception. This puts St. Martin's in the company of more than 1200 schools around the world whose Episcopal identities foster a welcoming faith tradition that celebrates inclusion and diversity, as well as a commitment to academic excellence and service.