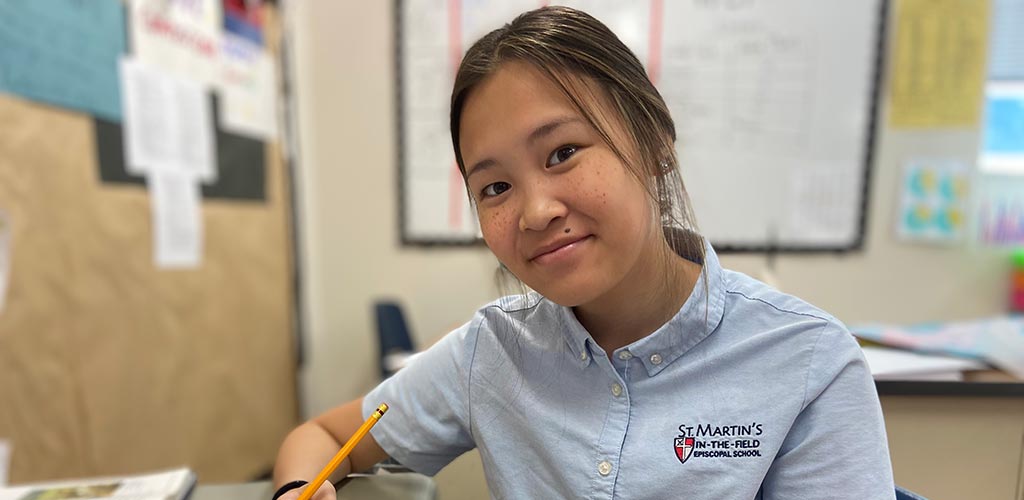 Middle School at St. Martin's Episcopal School offers a supportive, engaging and rigorous academic environment providing a firm foundation for success in high school and beyond.
We provide a spiritual anchor, allowing our students to develop a positive sense of self and a sustaining faith.
100% of graduates are accepted to their high school of first choice.
Core Academics and Highlights:
Problem-Based Inquiry Science curriculum that promotes problem-solving
Leveled Math classes extending through Algebra and Geometry for high school credit
Spanish instruction that culminates in high school credit
A literature-based humanities curriculum that integrates English, Geography, Government, and History
Distinct instruction in literature, writing, grammar, public speaking, and vocabulary
History Alive curriculum covering ancient civilization through American History
Technology courses in Coding, Maker Education, and Engineering
Integrated service learning including an Independent Service Learning Project in 8th grade
Leadership opportunities, including Student Council and Vestry
Art, Chorus, Band, Technology, Sacred Studies and PE
Interscholastic athletic and academic programs
An Innovation Lab provides students opportunities to practice hands-on engineering, robotics, and produce STEAM based learning projects
Weekly Chapel with Chapel Talks given by each 8th grader
Daily recess
Touchstones Discussion
Buddy Program with Elementary classes