Mustangs & Meatballs – Take Two!
March 25, 2022 at 7:00 pm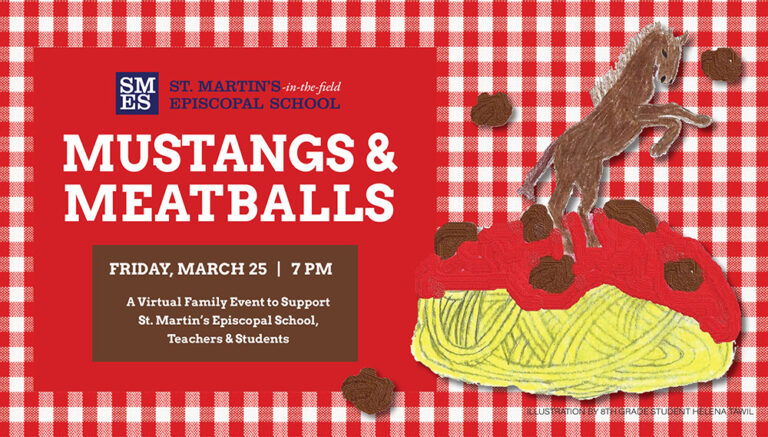 March 25th, 7:00 pm
Virtual Family Event to Support St. Martin's Episcopal School, Teachers & Students
Student Variety Show, Carry-Out Italian Dinner, Silent Auction, and More!
The Mustangs & Meatballs virtual family event to support St. Martin's Episcopal School, teachers and students is back for a second year! Families will be entertained by dazzling performances from our Preschool, Lower School and Middle School students in our virtual Variety Show. While enjoying the show, you'll feast on a traditional Italian dinner for 4 including salad, pasta, dessert, bread, a bottle of wine, and gifts all packaged in a reusable St. Martin's utility tote bag. You'll also have the opportunity to shop our expansive online Silent Auction with many unique items to bid on such as jewelry, vacation getaways, one-of-a-kind experiences, and so much more!
New This Year:
Dinner baskets feed a family of 4. Your dinner is delivered in a sturdy, reusable, navy blue Utility Tote Bag
Themed Preschool and Pre-K performances by class including all students
A wide variety of K-8 acts, featuring solo and group performaces from our Lower School students, Middle School students, teachers, and staff.
Performances by St. Martin's Middle School Band and Chorus
An expansive silent auction including creative gift baskets sponsored by each homeroom
The 1st class to reach 100% ticket purchase participation before March 1 will receive a Chick-fil-A lunch!
Ticket sales closed on March 16.