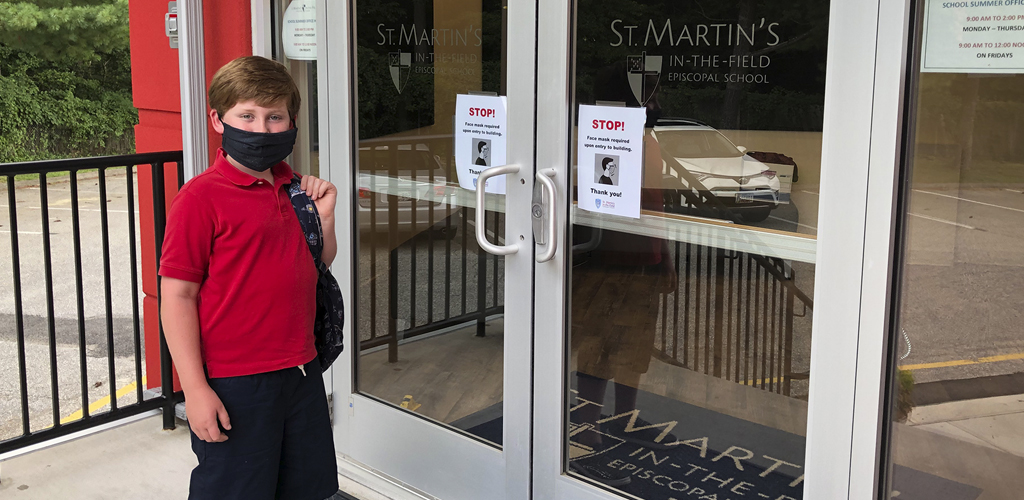 The following measures will be taken to provide a safe and healthy learning environment and to mitigate the potential spread of the virus at St. Martin's:
This year all teachers, staff, clergy and administrators are required to be vaccinated.
All members of the St. Martin's community must be masked indoors.
As much as possible, we have arranged for minimal congestion in corridors and classrooms during the school day as well as at arrival and dismissal times.
We have maximized interior space use to ensure social distancing in all three divisions.
We will provide individual supplies for students rather than shared supplies.
We will require hand-washing/sanitizing upon arrival and during the day at sanitizing stations throughout building.
Student-friendly health and safety reminders are evident everywhere in the building.
Except in inclement weather we will maximize outdoor time to learn, play, and eat.
An isolated space exists for anyone showing symptoms to wait for pick-up.
Staff and our cleaning company continue to provide enhanced daily cleaning with frequent wipe-down of high touch areas during the school day.
Without specific expressed approval during the school day, only students, staff and limited volunteers will be permitted in building. Other than the designated parent visitor times for Back-to-School and teacher conferences. To obtain building entry permission, prospective visitors should contact my office.
Covid symptomatic students must return home, and parents are requested to retrieve those children from school as promptly as possible.
Further professional guidance and updates will evolve as we move through the school year. We appreciate all of our family's participation in keeping our school community safe by keeping your children home from school if they are symptomatic.
To view St. Martin's 2021-2022 school year Covid Guidelines, please click here.